Company Identity
LabChip-based POCT and in vitro diagnostics Game Changer!
Mission
Easy Answer to Life
We, MiCo BioMed strives to provide innovative, cost-effective, quick and easy diagnostic solutions, accessible to everyone around the globe.
Vision
Together 100 Years
In a world where you are now expected to live up to 100 years, MiCo BioMed's vision is to be a lifelong partner to ensure that you live a long and healthy life.
Operation Principles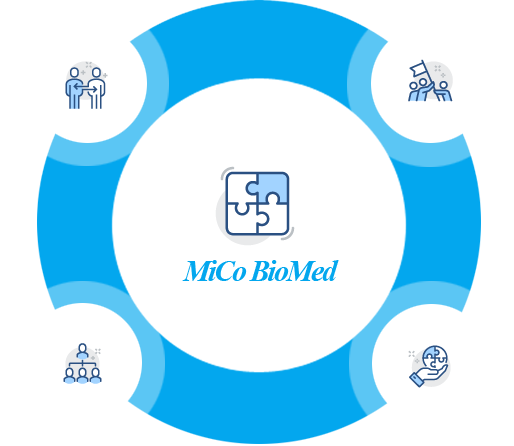 Our Mission

• Provide a workplace where employees can align their passions with purposes

• Provide a lifelong career
HR Management

• Providing opportunities to competent employees

• Providing appropriate compensation and rewards for employees' achievements

• Providing leadership opportunities to employees with excellent emotional intelligence
Personnel Management System

• Flexible promotion system based on employees' performance

• Carrying out both self-assessed and group-assessed performance evaluations

• Effective employee reward system
HR Principles

• 100 Years Together
· Removal of 'Default Retirement Age'
· Offering stock options and promoting employee stock ownership

• 5 : 2 : 2 : 1 Rule
Sharing profit with employees (Allocating over 20% of profit to employees)

• Flexible Working Hours System

• Enhanced Educational opportunities
Slogan
Cheerful Energetic Clean Fast